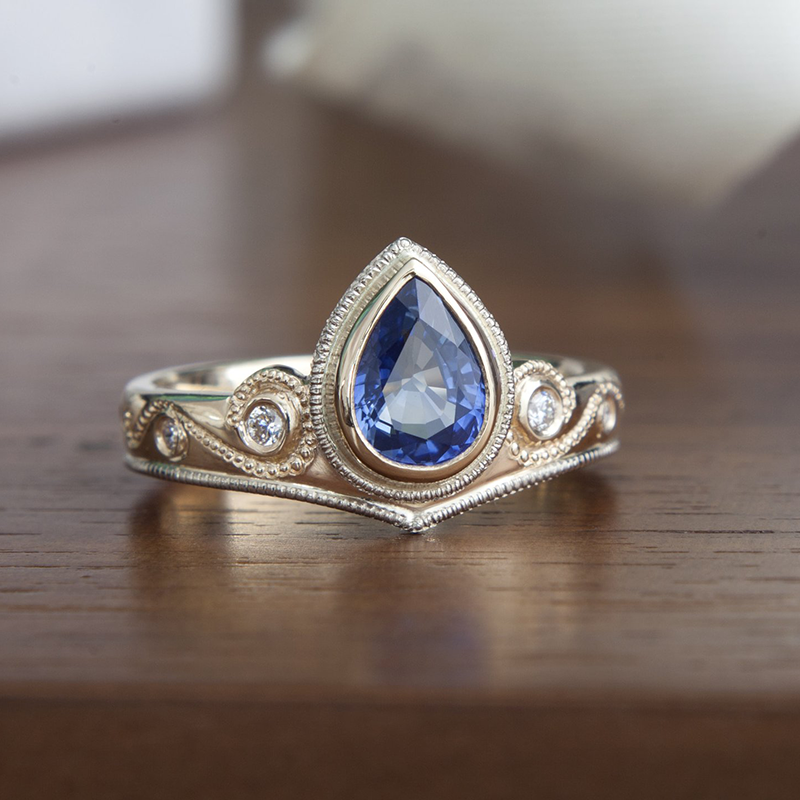 A Custom Blue Sapphire Engagement Ring
This custom process started with several designs and sketches that I put together in a program called Procreate. I already had a good idea of the style that we were going for from discussions and imagery provided by the client.
I sourced a blue Sapphire that was the color, size and shape and then we got the ring underway!
Hard wax tubing is carved down by hand to the correct finger size and consistent thickness. Taking into consideration the dimensions of the Blue Sapphire, a foundation is made for the ring.
The wax ring is then encased in liquid plaster that is left to harden around it. The plaster mold is then heated allowing the wax to melt out through an opening and leaving a void within the plaster that is in the shape of the ring. Gold casting grain is heated to melting temperatures and poured into the void with centrifugal force. Once cooled, the plaster is dissolved exposing the gold ring.
Sometimes it looks worse before it looks better! To achieve a mixed metal design that combines yellow gold with white gold, soldering is another step in the process. White gold pieces are hand formed and fitted to the yellow gold ring. They are tightly held in place with steel binding wire while solder is applied and heated to flow between the metals and create a seamless connection. The heat causes oxidation on the surface of the metal that will be removed later with a pickling solution.
Additional hand made elements are fabricated for the stone's setting and precisely soldered into place. Details are engraved into the metal and curls of gold are cut away creating deep lines into the ring. 
Diamonds are flush set into the ring and the center stone can be carefully bezel set and framed tightly in yellow gold. Finally a decorative millgrain technique is used to create a series of raised beads of metal.
And that's a wrap on this one-of-a-kind engagement ring!