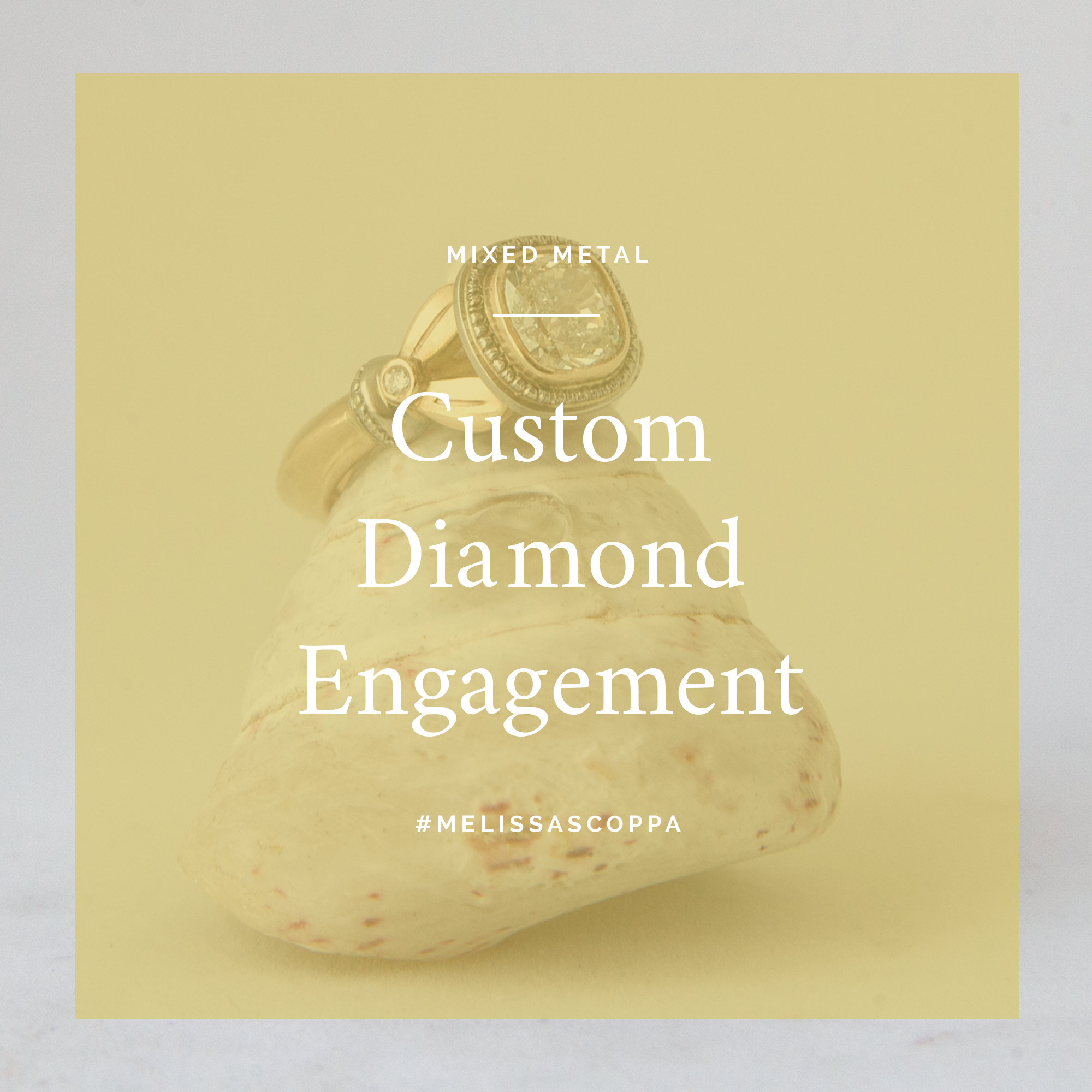 Custom Cushion Cut Diamond Engagement Ring
Getting Started
When beginning on a custom design, sketches are a good place to start. Lucky for me I happened to know this customer and their jewelry taste quite well - It's my Mom! She has always supported my jewelry creations since day one and is a jewelry connoisseur so I knew I really needed to WORK to impress!  
This ring has been such an exciting piece for me to create because it's not every day I get to work with such amazing materials, but I love to do it and find it to be super rewarding! Silver is awesome, but COME ON look at this thing! So much planning went into this piece and it is truly unique in so many ways. 
Sketching
Once we have a general direction for the look and feel of the ring, I like to start by illustrating what I think the client wants, and then offering some variations on the initial design. I typically come up with some options that are more simplified, and some that might be over the top.
These are helpful to narrow things down in the decision making process. They also really help to show what is possible and help to explore the many options there are when creating a custom piece of jewelry completely from scratch.
Hand Carving
Once a design has been chosen, finer details are then resolved and the making can begin. For this design we knew we wanted a handcrafted look and also a mix of white and gold metal. Mixed metal is a great option if you are someone who wears both silver and gold jewelry on a regular basis because it will match both. It also creates a beautiful contrast and lets each design detail stand out.
The shape of the band is carved out of jewelers carving wax or what's called "file-a-wax". The general shape is created using a variety of files and Precision carvers like the one pictured above. For my jewelry makers these are the Wolf brand Micro Carvers. I also used Wolf brand wax here as well.
The traditional technique of wax carving combined with a little soldering and fabrication was used to create a sculptural look but also be able to add elements of platinum sheet and Platinum millgrain.
Sourcing Materials
I sourced a Cushion Modified Brilliant cut Diamond 1.71ct with GIA cert as the perfect centerpiece for this ring. We had it narrowed down to two diamonds that were within the specs that we wanted and we went with one that had what's know as a "crushed ice" look which will make sense when you look at it.
A gold bezel was then hand made to tightly fit the measurements of the diamond. This frame of gold will eventually be the part that entraps the diamond as metal is tightened and pushed over the exterior edge of the diamond during the setting process.
Casting Process
The ring was cast from wax to 14K Yellow gold using the lost wax casting method. Fabricated platinum elements were then added as well as an accent diamond on each side of the ring.
Final Touches
A decorative detail known as Millgrain (French for "a thousand grains") was added by hand on each side as well as around the setting. Shown above, tiny beads of metal are cut one by one using a special tool and lots of pressure.
Each hand made element is carefully combined , quality hallmarks are stamped, and the center diamond is securely set as the final step.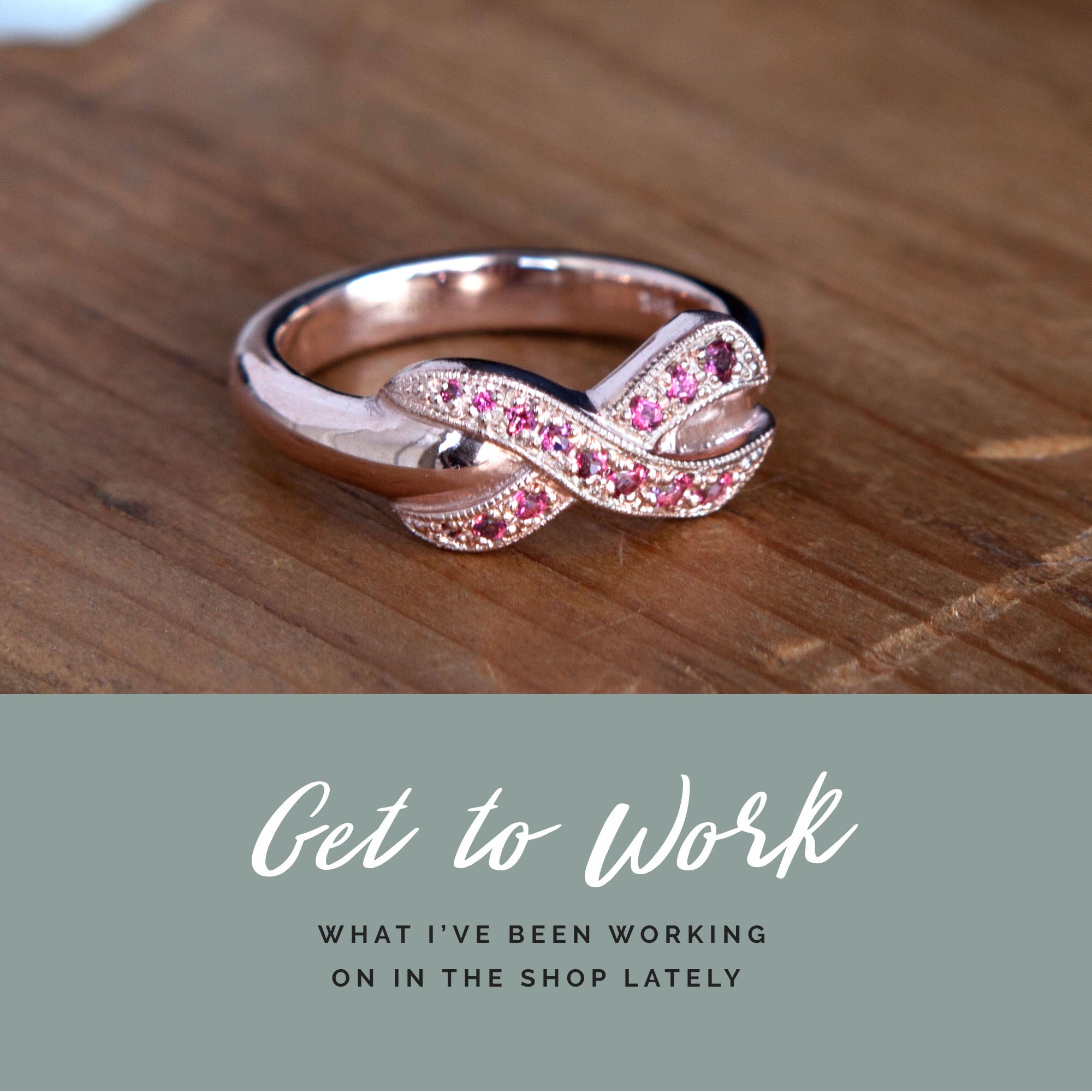 Behind The Scenes
I thought it would be fun to share a few of the preliminary sketches that did not end up getting used. I tried to provide a wide variety of styles when determining a starting point. Take a look! Wh...
Read more